Smarter City Bus, Better City Life
With the improvement of city life and the upgrading of people's travel needs, in the near future, people will have higher requirements and expectations for public transportation.
Driven by this concept, a new generation of smart city bus named BSR6106BEVGS1 (S10 for short) was promoted.
S10 not only includes style upgrading, but also adopts higher standard in its interior, structure, performance, networking, electrification, and intelligence. It is in line with the world's development. We hope you can see the future trend of intelligent networked city buses from this product.
Exquisite exterior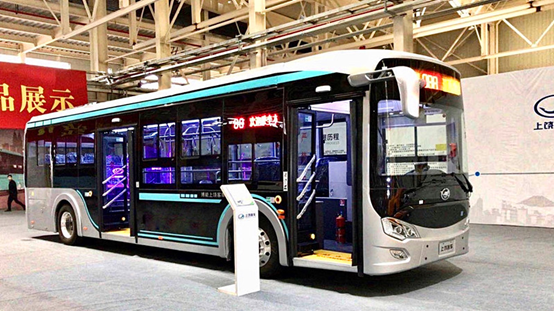 New styling: The appearance ofS10 adopts a comprehensive screen design concept of electronic products, breaking through the ceiling of traditional bus, and perfectly integrated the Chinese elegance and modern dynamic elements.
Stylish Interior
Colorful atmosphere lights: The ring-shaped atmosphere lights in the bus can be adjusted to different colors according to the environment;
Passenger seat: Soft passenger seat is not only comfortable but also easy cleaning;
USB charging: Equipped with USB interface, passengers can charge their phones conveniently;
Air conditioner: pure electric heating and cooling air conditioner and whole bus fresh air ventilation system makes the in-bus environment refreshing and pleasant.
Fence: The transparent toughened glass fence is engraved with the brand logo, and an excellent feeling of openness and enthusiasm was created under atmosphere lights;
Double-layer aviation roof: The design of double-layer roof adopts the design of airplane, which is high-end and modern;
Screw hiding stainless steel handrail: The design of stainless steel handrail adopted the design of rail transportation. No screws in sight makes the handrail simple, beautiful, and safe. It brings a sense of technology and high quality.
Driving Experience
High-end driver seat: The driver's seat adopts airbag damping and pneumatic lifting, which can relieve the driver's fatigue of long time sitting;
LCD intelligent instrument: The intelligent instrument adopts automatic light adjustment and paging display of bus status information. It is comprehensive and clear, providing the driver better bus condition monitor and easier operation.
Easier operation: equipped with multi-function steering wheel, EPB electronic parking system, AUTO HOLD temporary parking system, tire pressure monitoring system, etc., making the operation much more convenient and easier.
Adjustable instrument panel: The adjustable instrument panel is made according to EU standards. The up/down adjustment is ±35mm, and the front/rear adjustment is ±6.5°. While adjusting the position of steering wheel, the LCD instrument and buttons would move accordingly, in order to meet the needs of drivers of different figures.
Full closed interference-free driving area: The driving area adopts a full closed design, which can ensure the driver not be disturbed by passengers, and drive more safely.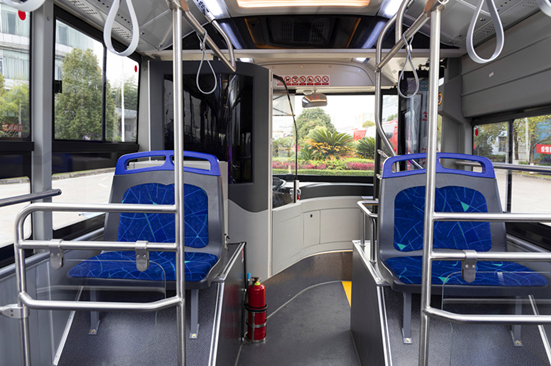 Intelligent Network
Driver assistant system: 8 intelligent driver assistant functions: ADAS early warning system, accelerator misstep protection system, collision mitigation braking system, driver behavior analysis system, etc. Greatly reduce the driver's stress and fatigue;
Remote intelligent monitoring platform: Through comprehensive analysis of vehicle operation data, online intelligent scheduling, remote diagnosis, real-time monitoring, and charging management, it can improve operator management efficiency and reduce operating costs.
At present, we have integrated people's needs into a new generation of city bus, hoping to provide the public better products in the bright future.