Liu Kaichun, author of "Car Body Design", came to Shangrao Coach to share design experience
In the middle of June, Mr. Liu Kaichun, a senior expert in the bus industry and the author of "Car Body Design", visited B-energy Shangrao Coach and shared the bus body design experience with company's technology, production and process. The participants in the technical exchange included production director, director of the test and verification department, director of the comprehensive planning department, director of the welding plant, director of the process department, deputy director of the body department, deputy director of the chassis department, and various professional technicians.
Before the start of the exchange meeting, Mr. Liu Kaichun went to the welding workshop. The design concept and production process of the body frame and skin were investigated, and questions were answered in-site. Many pertinent suggestions for improvement were also made for the manufacturing difficulties of the site. Subsequently, Mr. Liu Kaichun visited the finishing workshop and put forward a number of rationalization suggestions for the problem of skinning of school buses, city buses and tourism.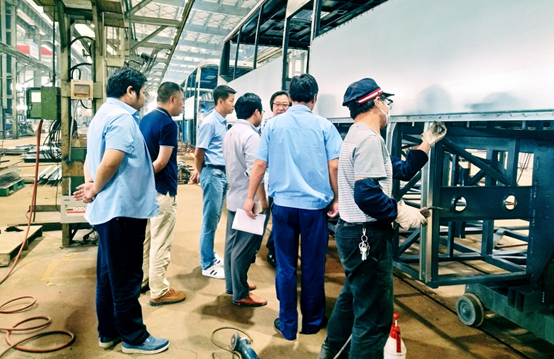 During the exchange meeting, Mr. Liu Kaichun systematically explained the design of the bus body skin, and proposed many matters that need to be paid attention to during the design process: the skin shall not be carried, and the large stamping parts are not used, the raw edges shall not be exposed, and the welding points shall not be used, continuous welding shall be avoided, etc., and analyzes the problems that are easy to occur in the design process. In addition, Mr. Liu summed up the keys to the body design. The so-called level of bus depends on body. The level of body depends on exterior, the level of exterior depends on body skin, the level of body skin depends on white body, side body skin have both structure problem and process problem, which are the essence of body design.
Finally, Mr. Liu Kaichun also conducted on-site Q&A for the participants, and gave detailed answers to questions such as body electrophoresis, top skin depression, rolling skin and flanging, and provided suggestions for the quality improvement of our buses.