Tiantian Bus help Shangrao create national health City
Shangrao City, Jiangxi Province, which is national garden city, national forest city, national tourism demonstration zones, and the country's third medical tourism pioneer zone, is striving to create "national health city" . The "creation of national heath" Action of Shangrao City puts forward higher requirements for the construction and improvement of residents' facilities, food and shelter, environmental protection, energy supply, environmental sanitation, disaster prevention and reduction, and public services.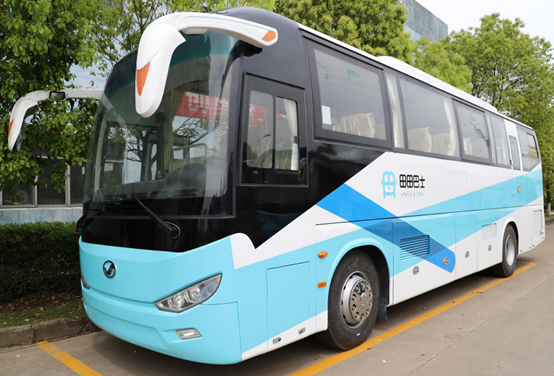 Tiantian Bus—— crystallization of B-energy Shangrao Bus Market Innovation, incorporates high quality service concept "Tiantian in hand, travel without worry", energy saving, environmental protection, safety and convenience. The author also gets that in the early stage, our company put some Tiantian Bus into the commuting service of major enterprises in Shangrao, add green power for Shangrao City, serve enterprise workers.
At present, Tiantian Bus adopts SR6107BEVTS2 high-level I passenger car. Its appearance adopts modern simple style. The main color of Tiantian Bus is white and lotus leaf green, the body design outlined by simple lines is noticeable. Tiantian Bus is equipped with advanced safety protection system, which enables the vehicle to respond freely and ensure driving safety under various road conditions: electronic stability control system ESC can control the longitudinal and lateral stability of the vehicle to ensure the stability of the vehicle; tire pressure monitoring system TPMS can constantly and automatically monitor various tire conditions to provide safety for vehicle driving. TESD can effectively avoid vehicle runaway caused by wheel hub contact with the ground at the moment of tire burst, and ensure the safety of personnel and vehicles; low-speed voice alarm device can remind surrounding vehicles and pedestrians to avoid in time while driving at low speed, to ensure traffic safety in congested road conditions; brake alarm function can monitor the performance of brake pads. Early warning to ensure braking performance; 6+1 monitoring system can monitor the behavior of people in boarding area, alighting area, driver's position, passenger area and the condition of reversing area in an all-round way; a travel recorder with satellite positioning system can monitor vehicle positioning, trajectory and abnormal situation in the background; and a warning device for driver and passenger seat belts can further protect the people in the car; Leak-proof inspection system in the car can effectively reduce the casualty rate caused by being locked in the car...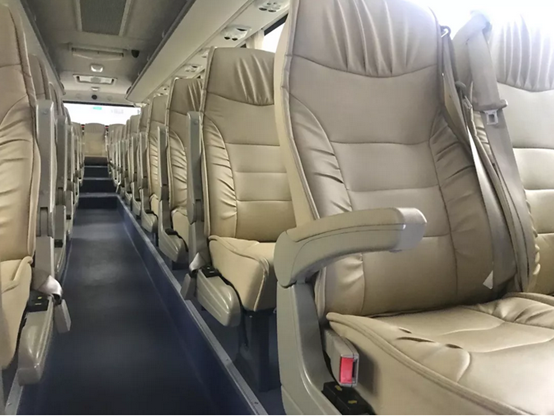 Tiantian Bus not only pursues the safety of vehicles, but also pursues high-quality driving experience: the installation of USB interface can guarantee the charging needs of all passengers; the installation of atmosphere lamp and reading lamp can improve the visual comfort of passengers at night; the adoption of high-back seat imitating fold belt can not only further improve the comfort of seats, but also make the interior of the whole car more textured. The design of double-side single luggage compartment can not only satisfy the storage of passenger's articles, but also effectively reduce the potential safety hazards caused by the falling off of articles. Besides, the car is equipped with emergency kits, which can meet the first-aid needs of emergency situations.
Tiantian bus is on road to make contribution for Shangrao to create national heath city.