Shangrao Big Data Development Bureau member Mr. Liu yifan and his team visited Shangrao Coach
In order to help the government better understand Shangrao Coach demands for large data to dock with it in a more convenient and quick way in the future, and promote the further development of the enterprise, on March 19, 2019, Big Data Development Authority Party member Mr. Liu Yifan and his team visited Shangrao Coach, the vice general manager Mr.Zhou Qinan, general manager assistant Mr.Yao Jie, planning department director Mr.Zeng Linkun, Director of information center Mr.Qi Keke were responsible for the reception.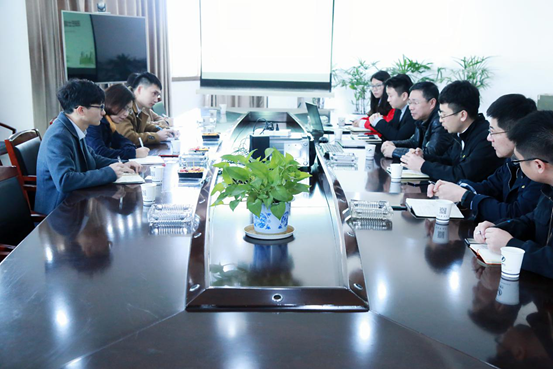 First of all, in order to deepen the understanding of Shangrao Coach's key planning in 2019 for Mr. Liu Yifan's team, Mr.Zeng linkun launched a detailed introduction of Tiantian bus. He said that Tiantian bus, as B-energy group holdings' new incubator project, it's main business including enterprise commuter, tour charter, business reception, and other aspects, comprehensively covering enterprise various application scenarios, based on the new Internet O2O platform, it commits to create new ecological、intelligent tourism, commuter network system, forge alliance ecosystem, driving the development of the whole industry chain to get a win-win situation.
Subsequently, the vice general manager Mr.Zhou Qinan elaborated on the original intention, current situation and prospect of Tiantian bus travel project at the macro level. He said that at present China is in the midst of a real economy transition, the travel service market has a broad prospect, we respond positively to national policy, follow closely the tide of clean energy, wisdom city, make full use of Shangrao Coach unique opportunities and advantages, we will set up Tiantian bus travel services project to solve the travel problem for the majority of social groups and improve the quality of travel.
Then, Mr.Qi keke gave a brief supplement on Shangrao Coach factory, data application and other aspects, mainly including manufacturing, bus trading and vehicle operations in three aspects. At the end of the meeting, Mr. Liu Yifan had a certain understanding of the bus company's use and planning in 5G technology. Mr.Zeng Linkun said that in the future, the bus company may add 5G technology to the monitoring of drivers' driving behaviors in Tiantian buses and driverless cars. After in-depth understanding and communication between two parties, Mr. Liu Yifan showed optimistic attitudes on the future development of Tiantian bus.
After the meeting, under the guidance of Mr.Yao jie, Mr. Liu Yifan and his team visited the driverless vehicles, further deepen their understanding of Shangrao Coach, and laid a good foundation for the communication and cooperation between the two sides in the future.